Tourism
Experience
History
Gourmet
Other
Tokushima Ramen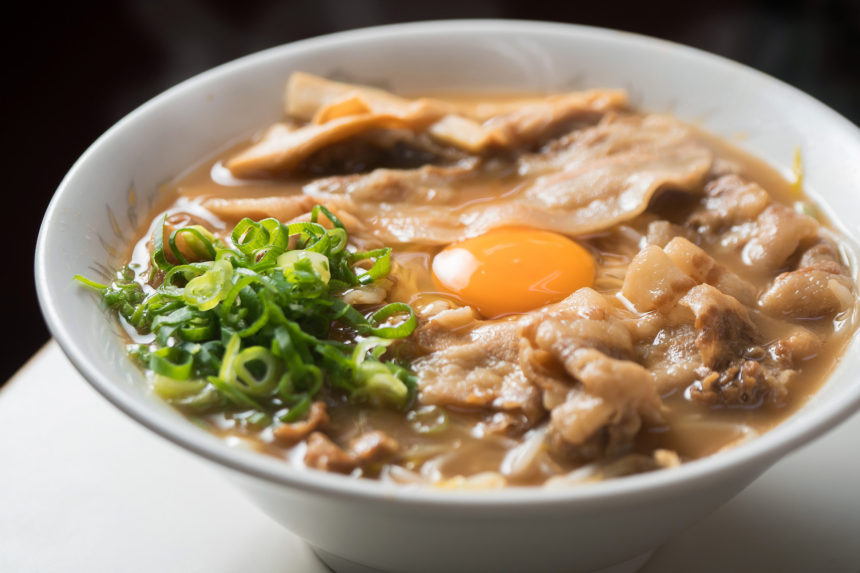 As ramen fans the world over know, most regions of Japan have their own local version of this dish, made from wheat noodles in a hot, savory broth. Tokushima is no exception, and ramen shops here typically offer their customers a choice of three kinds of pork-bone broth: brown, white, or yellow. Brown, called
cha-kei
, is flavored with dark soy sauce and is the most common. White broth, or
shiro-kei
, is made with light-bodied soy sauce and is saltier in taste. The yellow
ki-kei
type adds chicken and vegetable stock to the pork-bone base. Another distinctive feature of Tokushima ramen is the topping of sweet-and-spicy stewed pork belly in place of the standard
chashu
sliced pork. This style of ramen is thought to have originated at street stands in the days following World War II. Many shops in Tokushima also offer the option of topping your bowl of ramen with raw egg, which rounds out the broth flavors.
<簡体字>
德岛拉面
全世界拉面爱好者都知道,日本每个地方都拥有自己的特色拉面,虽然外形相似,但面质、浇头和汤底却是千变万化。
德岛拉面同样很有地方特色。这里的拉面店通常都提供三种颜色的猪骨汤底:茶色、白色和黄色。茶色汤写作"茶系",是在猪骨汤里加入了黑酱油调味,属于最常见的汤底。白色汤写作"白系",加的是颜色清淡的酱油,但味道更咸。黄色汤写作"黄系",在猪骨汤里追加鸡肉和蔬菜高汤。
德岛拉面的另一个特点在于浇头,它以甜咸口味的五花肉代替了标准的日式叉烧肉,这种拉面可能起源于二战后的街头小吃摊。许多拉面店还提供直接打在拉面上的生鸡蛋(而非溏心蛋),这会使肉汤的味道更加鲜美。
<繁体字>
德島拉麵
全世界拉麵愛好者都知道日本每個地方都擁有自己的特色拉麵,雖然外形相似,但麵條、配料和湯底卻是千變萬化。
德島拉麵同樣很有地方特色,這裡的拉麵店通常都提供三種顏色的豚骨湯底:茶色、乳白色和黃色。茶色湯底寫作「茶系」,是在豚骨高湯裡加入了顏色較深的濃口醬油調味,屬於最常見的湯底。乳白色湯底寫作「白系」,加的是顏色較淡的淡口醬油,突出的鹹味是一大特色。黃色湯底寫作「黃系」,是在豚骨高湯裡追加雞肉和蔬菜熬煮的高湯。
德島拉麵的另一個特點在於配料,以鹹甜口味的滷五花肉代替了常見的日式叉燒,這種拉麵可能起源於二戰後的街頭小吃攤。許多拉麵店還提供直接打在拉麵上的生雞蛋(不是半熟蛋),這會使湯底的味道更加鮮美。
Mameten-tama (Sweet-Bean Okonomiyaki)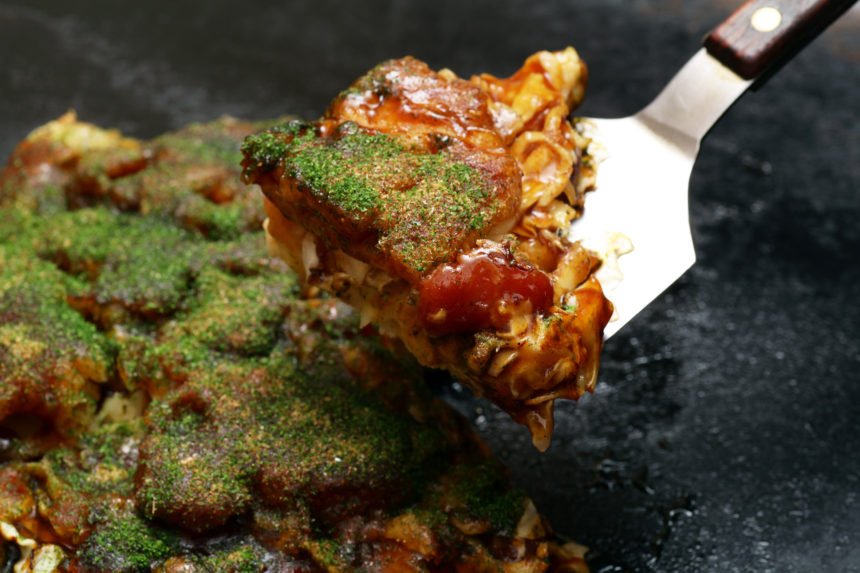 Mameten-tama
is a unique local variation of
okonomiyaki,
a thick, savory pancake cooked on a hot griddle. Already common in other parts of Japan,
okonomiyaki
was probably introduced to Tokushima from Osaka during World War II. Both dishes contain a basic mixture of shredded cabbage, egg, flour, and water. However,
mameten-tama
includes simmered kidney beans
,
which add a distinctly sweet touch to it. Tokushima began producing sugar during the later years of the Edo period (1603–1868). It became one of the prefecture's specialities and led to the making of sweeter foods. Another local twist to
mameten-tama
is the addition of small shrimp fried in tempura batter. This hearty dish remains popular among residents and is often considered a "Tokushima soul food."
<簡体字>
豆天玉(金时豆御好烧)
御好烧是一种在铁板上烹制的厚煎饼,美味可口,在日本各地都很常见,不过它可能是直到二战期间才由大阪传入德岛。御好烧来到德岛后,摇身变成了完全不同的"豆天玉"。虽然两种煎饼的基本食材一样:切碎的卷心菜、鸡蛋、面粉和水,但豆天玉里加入了炖至酥软的金时豆(一种芸豆),从而多出了几分明显的甜味。
江户时代(1603-1868)晚期,德岛开始产糖,从此它成为德岛县的特产之一,并带动了甜食的发展。另有一种豆天玉,添加的是炸小虾的天妇罗。这道份量十足的菜肴很受大众青睐,常被认为是"德岛的乡魂料理"。
<繁体字>
豆天玉(金時豆什錦燒)
什錦燒是一種在鐵板上烹製的厚煎餅,美味可口,在日本各地都很常見,但可能是直到二戰期間才由大阪傳入德島。而德島的什錦燒搖身變成了與之不同的「豆天玉」。兩種煎餅的基本食材都是一樣的:切碎的高麗菜、雞蛋、麵粉和水。但豆天玉裡加入了燉至酥軟的金時豆(一種蕓豆),因此多出了幾分明顯的甜味。
江戶時代(1603-1868)晚期德島開始產糖,糖從此成為德島縣的特產之一,並帶動了甜食的發展。另一種豆天玉,添加的是炸小蝦的天婦羅。這道份量十足的料理頗受大眾青睞,常被認為是「德島的鄉魂料理」。
Soba-gome Jiru (Buckwheat Soup)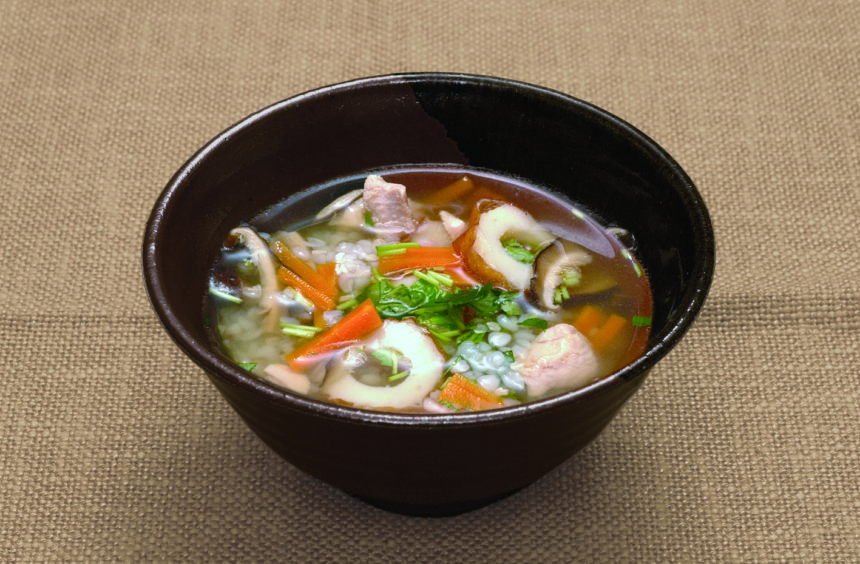 Tokushima has its own unique version of savory rice soup, a common dish in Japan. Buckwheat, called soba in Japanese, was an important crop for farmers, since it was difficult to grow rice in the region's mountainous areas. It is best known as the main ingredient in soba noodles but the grain is also used to make
soba-gome jiru.
Buckwheat kernels are boiled in salt, then peeled and dried, resulting in grain with a light, fluffy texture. This is combined with chicken and vegetables in a broth flavored with soy sauce, rice wine, and soup stock. According to local lore, members of the Taira clan invented the dish back in the 12th century. Upon losing to the rival Minamoto clan in the Genpei War (1180–1185), they took refuge in the Iya Valley in rural Awa Province (the former name for Tokushima Prefecture). The story goes that with no rice available to them that first winter, they improvised with soba grains instead. Whatever its origins, healthy
soba-gome jiru
is now an established part of Tokushima's soul-food culture.
<簡体字>
荞麦米泡饭(荞麦米汤)
类似什锦泡饭的"杂炊"(通常会在米饭里放入蔬菜或肉焖煮)是日本餐桌上的常见料理,德岛也有自己风味独特的可口泡饭。荞麦在日语里读作"Soba",在难以种植水稻的山区,它便是重要的农作物。荞麦面声名赫赫,孰不知,荞麦米本身也可以做成美味。将荞麦米放入盐水中煮熟,去皮晾干,就能获得轻盈饱满的颗粒。将它与鸡肉、蔬菜合拌后,加入酱油、清酒和高汤调味,便是一碗鲜美的荞麦米泡饭。
在民间传说里,这种食物是12世纪平氏武士的发明。当年,平氏在源平之战(1180-1185)中被源氏击败,逃亡到阿波国(德岛的旧称)乡下的祖谷山村之中。在那里度过的第一个冬天,他们找不到大米,只得用荞麦米替代,设法做出了这样一碗泡饭。无论起源如何,健康的荞麦米泡饭如今已是德岛乡魂料理中的一员。
<繁体字>
蕎麥湯泡飯(蕎麥米湯)
類似什錦泡飯的「雜炊」(通常會在米飯裡加蔬菜或肉燜煮)是日本餐桌上的常見料理,而德島也有屬於當地風味的泡飯。蕎麥在日語裡讀作「Soba」,在難以種植水稻的山區是重要的農作物。蕎麥麵名聲響亮,殊不知蕎麥湯泡飯本身也非常美味。將蕎麥米放入鹽水中煮熟,去皮晾乾就能獲得輕盈飽滿的蕎麥粒。再加入雞肉、蔬菜,並以醬油、清酒和高湯調味,便是一碗美味的蕎麥湯泡飯。
在民間傳說裡,這道料理是12世紀平氏武士的發明。當時,平氏在源平之戰(1180-1185)中被源氏擊敗,逃亡到阿波國(德島的舊稱)鄉下的祖谷山村之中,在那裡度過的第一個冬天,平氏找不到稻米只得用蕎麥米替代,設法做出了這樣一碗湯泡飯。無論起源如何,健康的蕎麥湯泡飯如今已是德島鄉魂料理中的一員。
Sudachi Fruit
This versatile citrus has a sharp taste and a pleasant aroma. It is about three to four centimeters in size.
Sudachi
have been cultivated in Tokushima since the Edo period (1603–1868), and now the prefecture produces around 98% of Japan's supply. It is not generally eaten whole, but serves to flavor other foods. A wedge of
sudachi
is often added to sashimi, grilled fish, or noodle dishes. It is a standard ingredient in the production of
ponzu
(a citrus-based sauce widely used in Japanese cooking). In recent years, food manufacturers have started using
sudachi
in confectionery, desserts, juices, and alcoholic drinks. Outside Tokushima,
sudachi
is often considered something of a delicacy, but here, it is an everyday garnish.
<簡体字>
酸橘
这种"万能"柑橘不过三四厘米大小,却味道浓郁、芬芳宜人。自江户时代(1603-1868)以来,德岛就开始种植酸橘,如今其产量占据了全日本约98%。它通常用于调味,而非直接食用,在生鱼片、烤鱼和面条中都会用到少量酸橘来提升食物风味,同时它也是制作柚子醋(一种广泛用于日本烹饪中的柑橘类调味料)的原材料。近年来,酸橘开始被广泛应用在糖果、甜点、果汁和酒精饮料中。
在德岛以外,酸橘是并不常见的珍稀美味,但在这里,它却是一种日常生活里不可或缺的风味。德岛县的吉祥物就是可爱的酸橘君。
<繁体字>
酢橘
這種「萬能」柑橘不過三四公分大小,味道卻極爲濃郁,芬芳宜人。自江戶時代(1603-1868)以來,德島就開始種植酢橘,產量如今佔據了全日本約98%。人們通常用來調味,而非直接食用。在生魚片、烤魚和麵類料理中都會用到少量酢橘來提升食物風味,酢橘也是製作柚子醋(一種廣泛用於日本烹飪中的柑橘類調味汁)的必備食材。近年來,酢橘開始被廣泛應用在糖果、甜點、果汁和酒精飲料中。
在德島以外,酢橘被奉為珍稀美味,但在這裡則是一種日常生活常伴左右的風味,甚至化身為可愛的德島縣吉祥物酢橘君。
Taki no Yakimochi (Grilled Rice Cakes)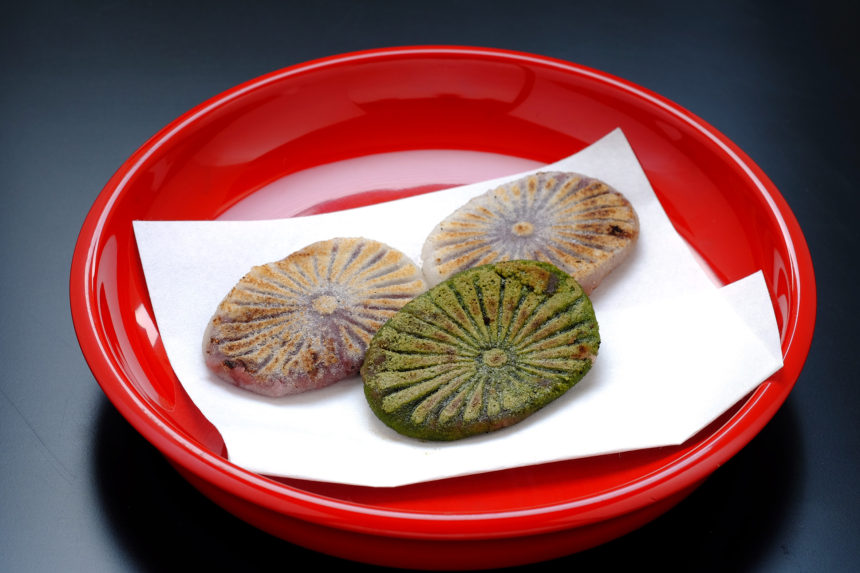 These traditional treats have been in production for more than 400 years. Local lore holds that the first lord of Tokushima, Hachisuka Iemasa (1558–1638), enjoyed
taki no yakimochi
and was presented with some to commemorate the completion of Tokushima Castle in 1586. Local spring water has been used for centuries to cook the adzuki beans for the rice cakes. Vendors take small balls of dough made from stone-ground rice flour, fill them with sweet-bean paste, then flatten them on the griddle with a chrysanthemum-patterned mold. The cakes are lightly grilled until crisp. Several shops around Mt. Bizan continue to produce the sweets in this time-honored way.
<簡体字>
瀑布烧饼
这种传统美食已经有400多年的历史。据当地传说,第一代德岛藩主蜂须贺家政(1558-1638)喜欢吃瀑布烧饼,1586年德岛城建成时,人们还以此为贺礼进奉给他。
几个世纪以来,当地一直坚持使用有名的锦龙水来烹煮烧饼里的红豆馅料。传统做法是,将石磨米粉制成的面团揉成小球,填入红豆馅料,再将小球压扁印上菊花纹样,最后放在铁板上小火烤至酥脆。眉山附近的一些商店至今依然在用这种古老的方式制作这种小甜点。
<繁体字>
瀧之烤麻糬
這道傳統點心已經有400多年的歷史。據當地傳說,第一代德島藩主蜂須賀家政(1558-1638)喜歡吃瀧之烤麻糬,1586年德島城建成時人們還以此為賀禮向他進奉。
幾個世紀以來,當地一直堅持使用著名的錦龍水來烹煮麻糬裡的紅豆餡料,傳統做法是將石磨米粉製成的麵團揉成小球,填入紅豆餡,再將麻糬球壓扁印上菊花紋樣,最後放在鐵板上小火烤至酥脆。眉山附近的一些商店至今依然在用這種古老的方式製作這種點心。
Hanayome-gashi (Bridal Sweets)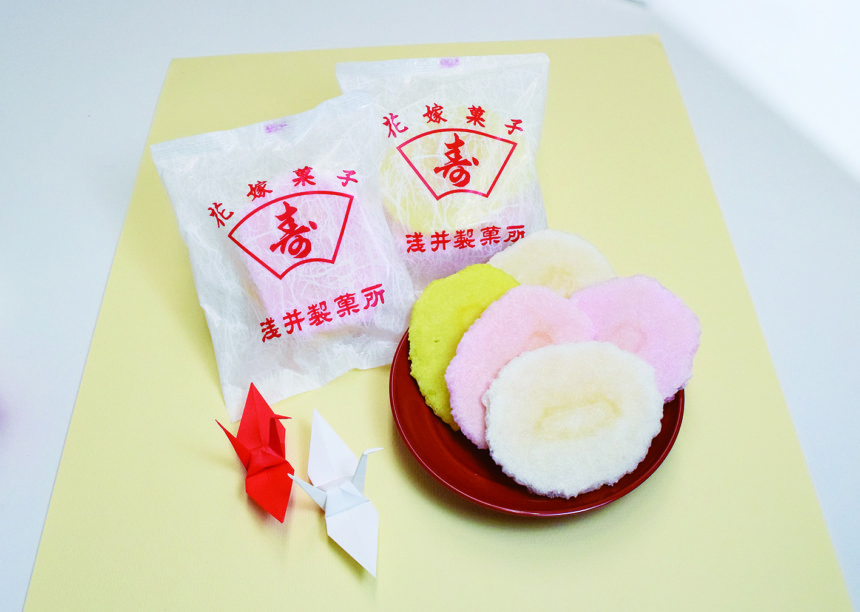 In an old tradition practiced in Tokushima, a bride would visit her new neighbors as part of the wedding ceremony. The importance of gift-giving and making a good first impression in Japanese culture found expression in this
hatsuaruki
(literally, "first walk"). A new bride would distribute sweets to thank everyone for welcoming her to their community. While this custom is no longer practiced much today, the colorful confections associated with it, known as
hanayome-gashi
or "bridal sweets," are still given by newly married couples to their wedding guests, or are purchased as general souvenirs of Tokushima.
Hanayome-gashi
are made of
mochi-gome
sticky rice and sugar. Confectioners cut, roll, and bake this dough, then coat it with sugar syrup and dry it to create a sweet treat with a delicate, cracker-like quality. They typically come in soft shades of white, pink, and yellow.
<簡体字>
花嫁菓子(新娘甜点)
依照德岛的古老传统,新娘要在婚礼上拜访新邻居。日本文化里非常注重赠送礼物和打造良好第一印象,这点也体现在了这一趟"初次拜访"中。届时新娘要分发甜点以感谢大家接受她成为社区的一份子,这些五颜六色的点心被称为"花嫁菓子"(类似中国的喜糖)。虽然上门拜访已不再流行,新婚夫妇仍然会向婚礼上的宾客赠送花嫁菓子,游客也习惯买些回去当作德岛旅游纪念品。
花嫁菓子由糯米粉和糖制成。糕点师将面团切开,卷起,烘烤,涂上糖浆,然后晾干,最终制成类似饼干质地的漂亮甜点。它们通常是白色、粉红色和黄色等柔和色调。
<繁体字>
花嫁菓子(新娘甜點)
依照德島的古老傳統,新娘要在婚禮上拜訪新鄰居,日本文化非常注重贈送禮物、打招呼以留下良好第一印象的禮節,這一點也體現在這一趟「初次拜訪」上。屆時新娘要分發甜點以感謝大家接受她成為社區的一份子,這些五顏六色的點心被稱為「花嫁菓子」(類似喜糖)。雖然已不再流行上門拜訪新鄰居,新婚夫婦仍然會向婚禮上的賓客贈送花嫁菓子,遊客也習慣買些帶回去當作德島的旅遊紀念品。
花嫁菓子由糯米粉和糖製成。和菓子師傅將麵團切開、捲起、烘烤、塗上糖漿,然後晾乾,最終製成類似仙貝口感的漂亮甜點,通常多是白色、粉紅色和黃色等柔和色調。

This English-language text was created by the Japan Tourism Agency.